With CRISPRed FoxP and habit formation to #SfN19
In: own data
Tomorrow we travel to the annual meeting of the Society for Neuroscience and our diligent scientists have already printed their posters!
Ottavia Palazzo will present her work on genome editing the FoxP locus of Drosophila with anatomical and behavioral characterizations of the various transgenic lines she has created. Spoiler: we now know the expression pattern of Foxp generally and of isoform B specifically and show that some of the behavioral phenotypes associated with manipulating the gene do not show up when the manipulation happens in the adult stage, rather than through development. She will present on Monday afternoon at Z14.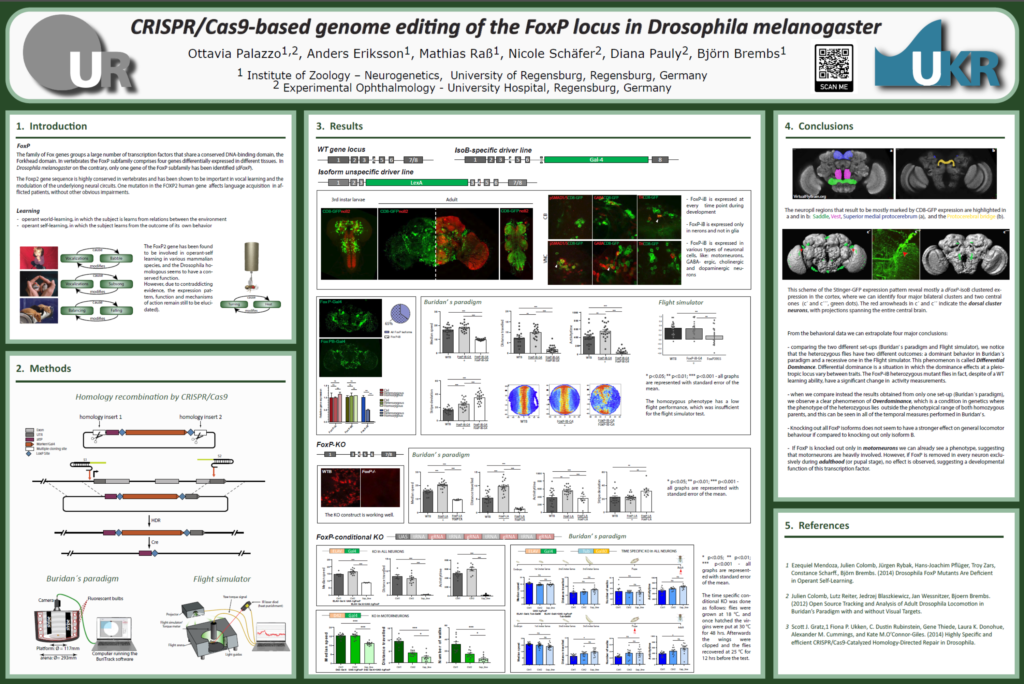 Anders Eriksson will present the results of his screen for which class of mushroom body output neurons (MBONs) is involved in the regulation of habit formation in flies. Learning can take place very quickly, yet habits take a long time (or many repetitions) to form. The process of habit formation is slow, because the activity of another form of learning, operant world-learning takes place at the same time and inhibits habit formation via the mushroom bodies. Spoiler: so far it looks as if MBON-2, 15 and 17 regulate habit formation, but this is subject to confirmation in follow-up experiments. He will also present on Monday afternoon, but a few steps away from Ottavia, at Z20.
The QR codes on the posters should get you directly to the PDF download.
(Visited 92 times, 92 visits today)
Posted on
October 17, 2019
at
16:32